Ahhh, first post of 2011. I recently got a "status report" from WordPress about the "health" of my blog. Apparently this blog is very healthy or "WOW" status, to use their terminology. It's been viewed 28,000 times in 2010, which works out to 2,333.333 times per month, which it pretty awesome considering I only post about 4 times a month.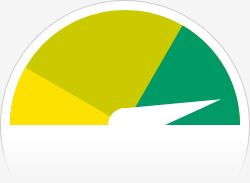 The Blog-Health-o-Meter™ reads Wow.
Yeah, um, so anyway. Welcome back. I hope to post more, but I've been spending more time working on my sci fi ideas, of which I hope to post clips soon. What would you prefer, though: a text post or a free downloadable mp3 of me READING the text? Listen to that shit on your way to work! Or both. Just an idea.
2011 is going to be a busy year: I forsee lots and LOTS of touring, coming to visit everyone we haven't seen in a while. Love you all, thanks for reading, and for being one of the 77.777 daily visitors!